History tends to be the history of the winners, with the losers assigned the passive, largely unvoiced, faceless role of the people on whom the winners operated.

—M. I. Finley

We reached the deep-flowing ocean where the Cimmerians have their lands and their town. This people is hidden under clouds, in mists that the sun's bright rays have never pierced.

—Homer, Odyssey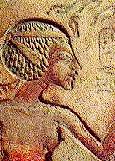 In the sixth regnal year the worship of the Aton was established as the religion of the state. Henceforth not only the Egyptian but the subject Nubians and Asiatics as well were to serve this one god alone. The temples of the other divinities were everywhere closed and their property seized. Whoever bore a name compounded with that of Amun was obliged to change it, and the king himself was among the first to do so.

—George
Steindorff,
Akhnaton and the Reformation

For a thousand years it was believed that the legends of the buried cities of Pompeii and Herculaneum were myths: they were spoken of as "the fabulous cities."
For a thousand years the educated world did not credit the accounts given by Herodotus of the wonders of the ancient civilizations of the Nile and of Chaldea. He was called "the father of liars." Even Plutarch sneered at him. Now, in the language of Frederick Schlegel, "the deeper and more comprehensive the researches of the moderns have been, the more their regard and esteem for Herodotus has increased."

—Ignatius Donnelly

So all day long the noise of battle roll'd
Among the mountains by the winter sea;
Until King Arthur's Table, man by man,
Had fallen in Lyonesse about their lord,
King Arthur . . .

- Tennyson, Idylls of the King



It has long been said, in many languages, that if there is one aspect most universal about humanity, it is that we are story loving beings. The overwhelming evidence for this is the vast heritage of mythology, legend and folklore which emanates from the heart of every culture on earth, dating back to the earliest records of human history.


That which makes us unique however, is our personal preference in story. We each loan our imagination to certain tales over others. The reasons for our distinct tastes are very often, not consciously known to us. In time, we learn that there is no wrong choice, when we follow, in faith, that which captures our heart.

"Papa, mira toros pintados!"
("Papa, look at the painted bulls!")

—Maria (at 12), daughter of Don Marcelino Sanz de Sautuola,
First explorer (after Maria) of the caves at Altamira, 1879

If Life itself, is like any one type of story, it is most like a Mystery. Within the many cycles of existence can be found comedies, love stories,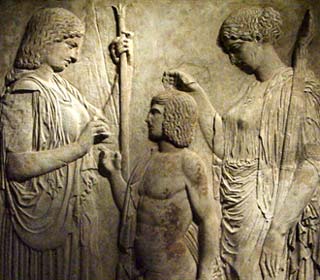 tragedies and adventures. Yet, at the center of each, and very often, at the finish, we find pervasive mystery.



Far back into prehistory, the earliest forms of religion, the world over, revered and celebrated this mysterious aspect of life. Even today, we still refer to these early beliefs as the Mystery religions. Rituals often included the reenactment of scenes from myth involving a hero's interaction with the forces of life. The stance of participants within such rituals was not to fear, but rather, to inhabit the mystery.

Image above: Mural of Eleusinian mystery rite, depicting the goddess Demeter with her daughter Persephone. Eleusis, Greece, 5th century BCE.
View the Foundation Stone of Learning about the Eleusinian Mysteries

Today, we seldom worship the mysterious. Still, we are drawn toward and often mesmerized by that which is beyond the reach of our knowledge and understanding. We all, love a good Mystery! It doesn't necessarily need to be fiction, either. There is much about the real world which remains to be conclusively explained. The lure of this unknown inspires each generation on to further exploration and revelation. New discoveries are made continuously in archaeology, genetics and a range of other fields.
"The work of the spade has now brought out the essential underlying truth of the old traditions that made Knossos the most ancient culture of civilized life in Greece and with it, of our whole continent. No equal plot of Earth's surface has been as productive in such various directions of so many unique records bearing on our earliest culture."

—Sir Arthur J. Evans, English Archaeologist,
relating the advances of 40 years of discoveries on Crete.
| | |
| --- | --- |
| The ancient city of Petra; carved into the living stone cliffs of Jordan. | There is no doubt that these advances increase the understanding of our world, and its inhabitants. Yet, paradoxically, they also reveal to us the scale of ignorance regarding what we know of our own nature and history. At times, it seems we are only lately beginning to understand who we are, and what our place is in the Universe. The more we learn, the more we realize how much remains to yet to be learned. This holds true even though the quest for understanding has been a devoted pursuit for thousands of years. |

Every child approaches life with a desire to know...to learn about the surrounding world. For each, the legacy of all that has been learned, is perceived anew. The movement of life is fluid and the landscape of history ever changing, so that every generation stands upon raw investigative ground. Inspired speculation, tempered by disciplined study proves to be the key to a broader encounter with the story of this world and its inhabitants.



Of great value to contemporary explorers of history, are the fruits of those who have passed this way before us. Seeking answers in the past from contemporary perspectives does not equate to disregarding previous research and discovery. On the contrary, past efforts are the very foundation for future investigation. However, it is fair to suggest that along with the discerning analysis of a scholar, serious explorers maintain the improvisational openness of a curious child as they seek.



"One of the most impressive and touching sights I have ever seen was this grand pyramid bathed in the light of the moon!"

—Sir Eric Thompson, English Archaeologist,
describing the Maya site at Tikal in Guatemala, 1906.