Glossaries

'Must know' Terms

Apse : Particular to the East end of Cathedrals, the Apse is a semicircular form serving as a culmination. The Apse, generally domed, will often form the Altar. The term is derived from the Medieval Latin: absis or apsis.

Cathedral Components

Unique Features

Tympanum : The vertical space between the arch and the lintel of a doorway. This location was often considered the premier site on a structure for sculpture, and so contained significant scenes such as the Last Judgment or Christ enthroned.

Structural Design

Decoration & Motif

Crockets : A distinctive Gothic motif formed of floral and leaf ornamentation. Primarily used on spire and pinnacle sculpture.

Expression of Craft

Art Periods & Styles

Rayonnant style : The Radiant style, originating during the reign of Louis the Fourteenth in France, sometimes referred to as the Court style or 'the style of the French.' The name which carried through the ages refers to the patterning of the windows which allowed for such radiant lighting.

The distinctions between French, English, Italian, German and Spanish Gothic are defined by more than mere geography. Over time, a dedicated study will reveal the variety of distinctions. The sincere student will soon enough 'pierce the veil' and come within the treasure house of artistic and spiritual intent contained in unique forms at each and every structure. These treasures still beckon powerfully to those of yearning mind and spirit. Their legacy challenges personal experience and innovative interpretation.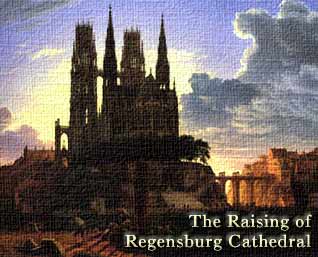 That the grand Gothic cathedrals of the Medieval period portray a manifestation of brilliant architectural skill, is self evident. Often lost to us today, due to the distraction of the fantastic, is the gesture of intent. Within the broad view of architectural history, this aspect is evidenced with outstanding success by the medieval builders. Within their time, Gothic churches and cathedrals were far more than sheltering houses of worship.




Gracefully incorporated into functional works of stone and glass are centuries of spiritual and moral understanding. Each site served as a vitalizing temple of initiation into the deep rooted mysteries of Christianity. From within these richly symbolic foundations, a sense of meaning and continuity emanated into the surrounding communities.




While today, religious services are still held within most medieval churches and cathedrals, their role within society is greatly diminished. Modern architectural accomplishments are funded by leaders of business not spirit. Our skylines are now dominated by temples of commerce, against which, even the grandest of cathedrals is overshadowed. For the most part, we find ourselves drawn to the strangeness of the Gothics, standing out, as they do, in sharp contrast to the structures of later ages.